Trogir (Dalmatia, Croatia)
Trogir is situated in the center of Dalmatia, on the eastern coastline of Adriatic sea. The historic city of Trogir is situated on a small island between the Croatian mainland and the island of Čiovo. Trogir lies 27 kilometres west of the city of Split.
Trogir, Travel Guide for holidays in Trogir, Dalmatia
Trogir – Points of interests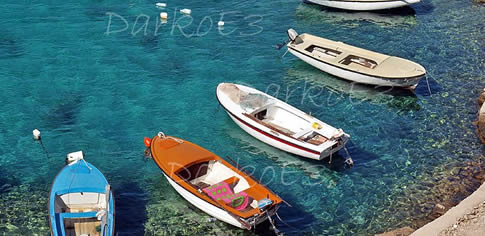 Since 1997, the historic centre of Trogir has been included in the UNESCO list of World Heritage Sites. It's rich culture is created under the influence of old Greeks, Romans, Venetians. Trogir with concentration of palaces, churches, towers, fortress on a small island. Trogir is the best-preserved Romanesque-Gothic complex not only in the Adriatic, but in all of Central Europe. Trogir's medieval core, surrounded by walls, comprises a preserved castle and tower and a series of dwellings and palaces from the Romanesque, Gothic, Renaissance and Baroque periods.
Must see
– Historical city core, with about 10 churches and numerous buildings from 13th century
– The city gate (17th century) and city walls (15th century)
– The Fortress Kamerlengo (15th century)
– The Duke's Palace (13th century)
– The Cathedral (13th century) with the Portal of Master Radovan, the unique work of this Croatian artist
– The big and small palaces Cipiko from the 15th century
– The city loggia from 15th century
Apartments and holiday homes for vacation in Trogir, Croatia