Dubrovnik (Dalmatia, Croatia)

Historical lore indicates that Dubrovnik was founded in the 7th century on a rocky island named Laus, which is said to have provided shelter for refugees from the nearby city of Epidaurum.
Dubrovnik, Travel Guide for holidays in Dubrovnik, Dalmatia
Dubrovnik – Points of interests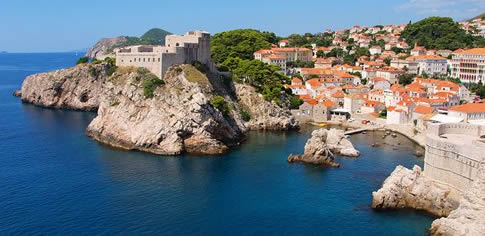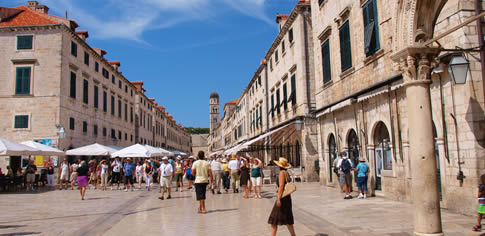 The city of Dubrovnik (Latin: Ragusa) was built on maritime trade. In the Middle Ages it became the only city-state in the Adriatic to rival Venice. As the capital of the Republic of Ragusa, a maritime republic, the city achieved a high level of development, particularly during the 15th and 16th centuries. Dubrovnik became notable for its wealth and skilled diplomacy. Dubrovnik is steeped in stunning architecture and sculptural detail, and boasts spectacular churches, monasteries, museums, and fountains. A multitude of typical towns and excursions include: The Elaphiti Islands, the attractive town of Cavtat,the Konavle valley, Mljet Island, Korčula Island, Ston and Peljesac Peninsula. The neighbouring towns of Kotor and Perast in Montenegro or Mostar in Bosnia and Herzegovina also make for intrigiuing day trips. Must see:
– Walls of Dubrovnik – A feature of Dubrovnik is its walls that run almost 2 km (1.24 mi) around the city. The walls run from four to six metres thick on the landward side but are much thinner on the seaward side. The system of turrets and towers were intended to protect the vulnerable city.
– Roland's Column – A slender stone flag staff of the legendary knight. Also known as Orlando's Column. Ever since its foundation in 1950, the Dubrovnik Summer Festival is officially opened by raising a flag carrying the city's motto Libertus on Orlando's staff.
– Bell Tower – On top of the tower are the famous Zelenci, bronze statues which strike the gigantic bell every hour.
– Sponza Palace – Gothic Renaissance palace, one of the few buildings that has maintained its form from before the catastrophic 1667 earthquake.
– Franciscan Monastery with Baroque Church, houses a Romanesque cloister and the third oldest pharmacy in the world.
– Cathedral of the Assumption of the Virgin Mary in the Poljana Marin Držić.
– Lapad Beach – sandy beach area on the Lapad Peninsula, approximately 3.5 km from the old town, where you can relax in the shade of the numerous trees.
– Banje Beach – a well located pebble beach. Amazing view to city walls, Old Town Dubrovnik and the island of Lokrum.
– Lokrum Island – Only 10 minutes by boat from Dubrovnik. You can swim in some indicated spots where you'll find ladders to get into the sea. O
– Stradun, Take a walk and enjoy a drink at a cafe on the main thoroughfare of the old town.
– Mount Srđ – For a great view of the town. There is a fortress on top which contains a small museum describing its history.
Apartments and holiday homes for vacation in Dubrovnik, Croatia