Split (Dalmatia, Croatia)

Split, second largest city in Croatia is economic, administrative, educational, sport and tourist center of Split Dalmatia county. Split is also one of the oldest cities in the area. While it is traditionally considered just over 1,700 years old counting from the construction of Diocletian's Palace in AD 305, archaeological research relating to the original founding of the city as the Greek colony in the 6th century BC, establishes the urban tradition of the area as being several centuries older.
Split, Travel Guide for holidays in Split, Dalmatia
Split – Points of interests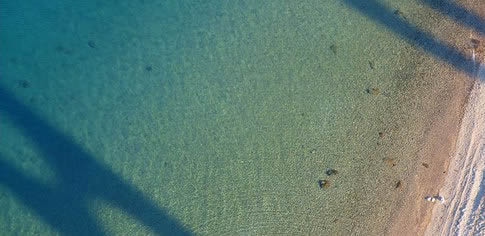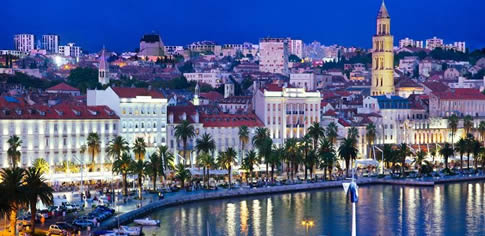 While the beginnings of Split are often connected to the construction of Diocletian's Palace, the city was founded earlier as a Greek colony of Aspálathos. Split is situated on a peninsula between the eastern part of the Gulf of Kaštela and the Split Channel. The Marjan hill (178 m), rises in the western part of the peninsula. The ridges Kozjak (779 m) and its brother Mosor (1339 m) protect the city from the north and northeast, and separate it from the hinterland. Wandering the historic centre of Split you can still clearly see the Roman walls, squares, and temples. Many of Split's historical and cultural buildings can be found within the walls of Diocletian's Palace. In addition, numerous museums, the National Theatre, and old churches and other archeological sites in the Split region make it an important cultural attraction. Must see :
– Diocletian's Palace (UNESCO heritage site) – The ruins of Diocletian's Palace, built between the late 3rd and the early 4th centuries A.D., can be found throughout the city. The cathedral was built in the Middle Ages, reusing materials from the ancient mausoleum. Twelfth- and 13th-century Romanesque churches, medieval fortifications, 15th-century Gothic palaces and other palaces in Renaissance and Baroque style make up the rest of the protected area.
– Jupiter's temple – Ancient Roman temple which became St. John's church.
– Marjan – a hill situated on the west of Split. Marjan is an oasis for many people who look for a natural stress relief, a great place for long walks, jogging, and bike rides.
– St. Duje's cathedral – cathedral is a very beautiful mixture of Roman temple and Catholic church. It also has a beautiful belltower which provides you a great panoramic view of Split, nearby islands and Marjan hill.
– Two original Egyptian sphinxes
– Peristil square – Main square of Diocletian's palace with well preserved Roman architecture.
– Riva is the main city promenade.
– Varoš – a place where lived most of the city peasants and fishermen with charming streets and beautiful small houses.
Apartments and holiday homes for vacation in Split, Croatia