Korčula (Dalmatia, Croatia)

Korčula is an island located in Southern Dalmatia, near Dubrovnik. According to some sources, Marco Polo may have been born here. Korčula is also the name of the eastern-most town on the island. Another town is Vela Luka, 43km in the west, from where many ferries go. Korčula is linked to the mainland by a regular ferry service that runs between Dominče, just outside of Korčula Town and Orebić. There are many small villages, including Blato, Smokvica, Cara, Pupnat, Zrnovo, Lumbarda and Racisce all worth visiting if you have more time to spend.
Korčula, Travel Guide for holidays in Korčula, Dalmatia
Korčula – Points of interests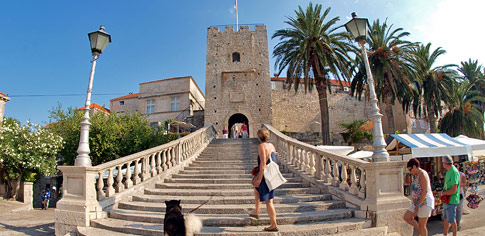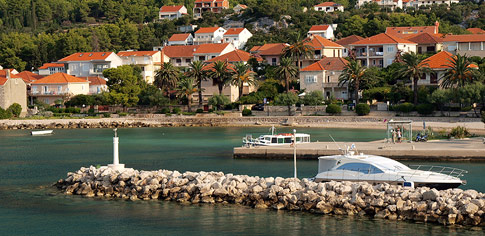 According to legend, the island was founded by Trojan hero Antenor in the 12th century BC who is also famed as the founder of the city of Padua. It's historic traditions, such as the Moreška Sword Dance in the city and the Kumpanija and the Moštra in villages Čara, Pupnat and Žrnovo as well as long existing confraternities, run deep in the soul of the island and continue to bind the community. The main street in the old town divides the town neatly into the eastern and western halves, while the small side streets extending horizontally to the city walls fan out like fish bones. Above the entrance of the Land Gate, there are two symbols marking Korčula's history: a bas-relief with the winged lion of St. Mark, symbolizing the reign of the Venetian Republic and a stone tablet commemorating the 1000th anniversary of the coronation of the first Croatian king, Tomislav. There are a bevy of activities to engage in Korcula. If you are the relaxed traveler looking for a quiet getaway, it's possible to soak up the sun on some of Croatia's most beautiful beaches.
Apartments and holiday homes for vacation in Korčula, Croatia