Stinjan (Pula, Istria)

Stinjan is a small village,located in a south-western part of Istrian peninsula. It is located only 7 kilometers distant from Pula, but it has good connections with all smaller and bigger places in Istria. The center of Stinjan is the main square which was recently reconstructed and arranged. Nearby, on a hill you can visit the old austrian fortress called Fort Punta Christo. Many alternative festivals and gatherings are held and this is the central venue for different happenings.
Stinjan, Travel Guide for holidays in Stinjan, Istria
Stinjan – Points of interests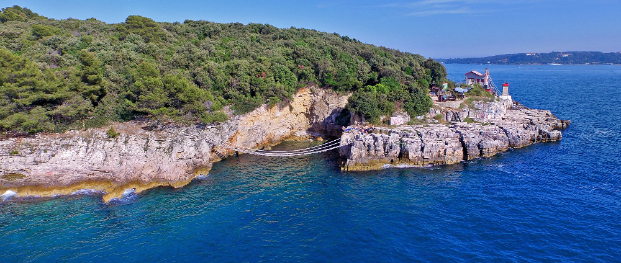 The small town Štinjan, known as Astiniaum in the Roman period, is settled on the southwestern end of Istria 7 km from Pula in front of the Brijuni Islands. The center of Štinjan is a small square where you can visit the parish church with its bell tower of St. Margarita and the monument of the Fascism victims.
This small and peaceful tourist town has developed 700m away from the central beach which is surrounded by pine trees. From the center of Štinjan you can easily reach the coast and the many bays, islands and peninsulas nearby: Žunac bay, the islands Kozada and St. Jerolim, the Puntisella cap, Guc cape as well as the Turulu hill, Cristo fortress where during the summertime you can take part in various festivals, one of the most famous are the "Truffle Days" (a superb culinary festivity held over several days in all of Istria), the seasplash festival, outlook festival, dimension fetsival and so on. From Štinjan, Valbandon and Fažana can easily be reached by bicycle or even on foot since they is 1-2km distance between them. From Stinajn you can go in any direction, where are offered places which can assure you many extra ideas and possibilities for vacation. Stinjan is an ideal place for a family vacation which offers a relaxing holiday from your everyday stress.
Photo to buy