Adrenaline in Istria: Paintball, Go kart, Windsurfing, Moto club, Free climbing, Paragliding, Hang gliding, Caving, Adrenaline park

Istria is a perfect union of the blue sea and a green hilly inland. Cycling in pinewood and olivetrees while you're breathing fresh air and enjoying beautiful views is priceless. Cities and villages filled with history and culture makes this tour unique in the world. Prehistoric towns, roman cities, medieval hilltowns, venetian palaces, modern fortresses, Istria has something for everyone
Windsurfing in Istria

Especially in the last few years Istria has always been an interesting windsurf destination in this part of Europe, but its popularity is growing even more. Due to its outstanding geographical position in the most southern part of the Istrian peninsula, Pula and its surroundings can offer the most optimal conditions for windsurfing such as – a constant presence of winds, the sea temperature between 15 and 24oC (in the period between April and December), 10 different windsurfing spots with the longest distance between any of them not bigger than 20 km, which enables you to choose the most acceptable location regarding the present weather conditions and wind directions (bura (a north/ north-east wind), jugo (a south/south-east wind, sirocco), maestral (a landward day breeze) or tramontana (a north-west wind)).
Windsurfing centar Premantura, Medulin

Type: Windsurfing
Phone: +385 (0)91 512 36 46
Address:
Destination: Premantura, Medulin
Hallowind – Extreme sports happening Premantura , Medulin

Type: Windsurfing
Phone: +385 (0)91 512 36 46
Address:
Destination: Premantura, Medulin
Novigrad Windsurfing , Novigrad

Type: Windsurfing
Phone:
Address:
Destination: Novigrad
Free Climbing in Istria

So far Istria offers nine climbing sites: Zlatni rt near Rovinj, Lim Bay, Dvigrad, Istarske toplice, Raspadalica above Buzet, Vranjska draga near the Učka tunnel, near Pazin, Mošćenička Draga, Vintijan near Pula and Rabac. Nine ascents on the so-called short rocks, 20-30 m high, have 270 equipped ascents. Istrian rocks with many obstacles, are demanding both for top athletes and beginners. Apart from the beautiful intact nature more and more prized by free climbers, the rocks mostly face the south, enabling climbers to wear short sleeves even in colder weather.
Free Climbing Zlatni rt (Golden Cape), Rovinj

One of the most fascinating and largest protected park forests in the Mediterranean, also known as the international meeting place of free climbers. On the cliffs rising from the sea there are some 80 rock-climbing routes, mostly easier and suitable for beginners.
Free Climbing Istarske toplice, Buzet

Near the medieval city Motovun, along the Mirna River, rise tall rock barriers of which the most attractive ones are located above the very thermal spa 'Istarske toplice'. There are 13 different climbing routes, measuring 22 to 90 meters.
Free Climbing Raspadalica, Buzet

Rising high above Buzet, on the slopes of Ćićarija, lies Raspadalica, the centre of extreme sports. On the cliff at Raspadalica there are some 30 climbing routes, measuring 8 to 30 metres in height.
Free Climbing Lim Bay, Rovinj

The deep valley Limska drage which starts near Pazin, ends at the seacoast north of Rovinj. At the end of this 12-kilometre-long bay known as Lim Bay stand the very impressive cliffs rising high above the very sea. This popular rock-climbing site has some 60 climbing routes up to 25 metres in height where you can climb all year round.
Free Climbing Dvigrad, Rovinj

Near the remains of Dvigrad, one of the most famous Istrian medieval towns that lies in the inner part of Limska draga, which was abandoned in the 17th century, is a rock-climbing site with 63 climbing routes. The most difficult and challenging route known as Malvasia was only climbed by the famed Italian climber Manolo–Maurizio Zanolla at the beginning of the 1990s.
Free Climbing Vranjska draga, Ucka

A must for every rock-climbing enthusiast, below the slopes of Mt. Učka, in the north-eastern part of Istria, lies the canyon Vranjska draga with the most amazing spired rocks. This unique site has some 50 climbing routes. The most attractive and amazing cliff is the 100-metre-high Great Tower (Veliki toranj) – natural phenomenon that will surely impress even those who are not so enthusiastic about rock-climbing.
Paragliding in Istria

Enjoy the magic of Istria from the Air ! Paragliding Tandem flight in Istria will take you over magical old towns. What better way is there to make your vacation a little bit adventurous? In a tandem you are able to fly without any previous experience. You will instantly become a part of our team. After a 15 min briefing you get to fly with a highly trained instructor, which is the easiest and safest way to experience the thrill of paragliding.
PJK Paragliding Istra

Type: Paragliding
Phone: +385 (0)98 922 8081
Email:
info@istraparagliding.com
Web:
www.istraparagliding.com
Address: Borgo 1
Destination: Motovun
Hang gliding in Istria

In the last ten years eight starting points for hang gliders have been set up in the area of Buzet, Učka and Ćićarija. They are ideal for large competitions, enabling flights all over central Istria – in the west to Buje, in the south to Žminj, in the north to the Slovenian border, and in the east all the way to Mt. Vojak. Thanks to the mild Mediterranean climate, the flying season starts at the beginning of February and ends in November.
Free flying club Homo volans, Opatija

Type: Hang gliding
Phone: +385 (0)91 2929932
Address: Nova cesta 136
Destination: Opatija
Caving in Istria
Owing to its soil types (karst and limestone) Istria has a lot of underground caves. Several of them can be visited without much speleological knowledge and equipment while for a large number of them, you need more experience and specialized equipment. Underground chambers, streams, pits, lakes, crevices, gorges and petrifactions will surely inspire each visitor with enthusiasm. Apart from natural beauties, Istrian caves and pits are a treasury of animal and plant world (fish, frogs, dormice, crabs, bats), the most interesting among them being Proteus anguinus, endemic species that inhabits only these Karst areas.
Cave climbing centre Speleolit, Baredine

Type: Caving
Phone: +385 (0)92 110 0070
Address: Cave Baredine, Nova Vas
Destination: Baredine
Cave adventure Speleo Adventure, Buzet

Type: Caving
Phone: 00385 (0)98 924 73 00
Address:
Destination: Buzet
Paintball in Istria

Experience your holidays differently, relax yourself from everyday stress, strengthen your character and lift up the adventurous spirit. Let your holiday become a game! Paintball is an exciting game for both men and women of all age groups and lifestyles around the world. Let yourself go to the top entertainment, which is full of adrenaline in the natural environment.
Paintball Adrenalina, Rovinj

Type: Paintball
Phone: +385 (0)98 219 403
Address: Autocamp Polari
Destination: Rovinj
Paintball Club Pula, Medulin

Type: Paintball
Phone: +385 (0)98 381 313
Address: Pješčana Uvala, II ogranak 33
Destination: Pomer, Medulin
Paintball Club Freak Impuls, Rabac

Type: Paintball
Phone: 00385 91 5836060
Address: Plominska 7
Destination: Rabac
Paintball club Poreč, Porec

Type: Paintball
Phone: +385 (0)52 452 896
Address: Molindrio bb
Destination: Porec
Paintball club Green Garden, Pula

Type: Paintball
Phone: +385 (0)52 535 639
Address: go-cart track Pula
Destination: Pula
Paintball field Ližnjan, Medulin

Type: Paintball
Phone: +385 (0)98 331 908
Address:
Destination: Liznjan, Medulin
Paintball Arena Lanterna, Porec

Type: Paintball
Phone: +385 (0)95 398 73 63
Address: Lanterna bb
Destination: Tar, Porec
Go kart in Istria

As fans call it, the union of entertainment and sports, go karting is offered on several tracks in Istria. In Pula and Poreč you can enjoy go karting whole year round, while in the other tourist resorts it's possible only seasonal. With a little bravery and good driving skills, adrenaline driving on tracks will bring the desired excitement.
Go Kart Kart Cross, Umag

Type: Go kart
Phone: +385 (0)91 533 3070
Address:
Destination: Umag
Go Kart Istra Karting, Motodrom Poreč

Type: Go kart
Phone: +385 (0) 52 456 100
Address:
Destination: Porec
Go Kart Green Garden, Pula

Type: Go kart
Phone: +385 (0) 52 535 639
Address:
Destination: Pula
Adrenaline parks in Istria

Adrenalin Park, up in the trees, consists of winding paths situated high up within the forest itself. The construction made of steel slings, ropes and platforms is completely safe and suitable for anyone wanting to test their balance, concentration and physical condition. This park represents an innovation in tourist offer and is the ideal place for both adults and children that want to experience their daily dose of adrenaline.
Adrenaline park Umag, Umag

Type: Adrenaline park
Phone: +385 (0)98 217265
Address: Campsite Stella Maris
Destination: Umag
Adrenaline park Glavani, Glavani

Type: Adrenaline park
Phone: +385 (0)91 896 4525
Web:
www.glavanipark.com
Address: Glavani
Destination: Glavani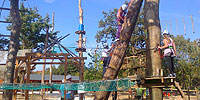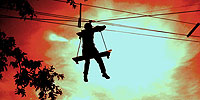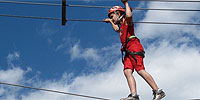 When you arrive in Glavani, a small picturesque village in the Council of Barban, prepare yourself for a dose of adrenaline that will stimulate and excite all your senses. Try something fun and new – visit the best adventure park in Istria – Glavani Park. All those who are brave enough, (or feel like they want to be brave ), regardless of their age, will enjoy themselves swinging about amongst the trees. We have prepared three routes for you, yellow, blue and black each increasing in height and in difficulty and, as a great bonus, both the blue and black routes end by enjoying the 113metre zip line. So come and enjoy yourselves in a fun adrenaline adventure in the best Istrian adventure park – Glavani Park. Open 9am – 8pm every day including Sunday If you want to try all the routes then you need to arrive by 6pm! You'll find Glavani Park on the road between Vodnjan (10km) and Barban (6km) or turn off the main Pula – Labin road at Manjadvorci and follow road to the end and then turn left for Vodnjan!
Moto and aero clubs in Istria

Moto and aero tourism in Istria…
Aero club Delic Air, Medulin

Type: Aero club
Phone: 00385 52 506505
Address:
Destination: Medulin
Aero club Adria Aero, Vrsar

Type: Aero club
Phone: 00385 52 428130
Address: Airport Vrsar
Destination: Vrsar
Moto Club Rovinj, Rovinj

Type: Aero club
Phone: 00385 52 813239
Address: Gripole 1
Destination: Rovinj